"Terminator 2." Maths in the Movies. Project 6.

TERMINATOR 2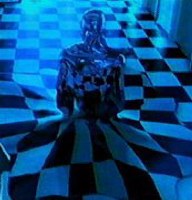 YOUR MISSION.
Consider only the movie scene shown. Calculate the total area that the T1000 would have covered when it spread across the floor to a thickness of 1mm.
Would it have been possible to do this?
To obtain an A+ grade for this mission you must use a computer for some part of the calculation. Evidence of this will be shown in your answer. Good luck!